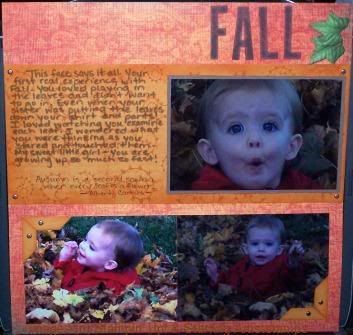 Here is a layout I created for a Design Team tryout. I'm up against a lot of other great stampers, so not sure how far I'll make it. They are doing the tryouts somewhat like Survivor - all participants will vote others off. They are granting 5 immunities this first round.

The challenge for this round was to create a layout based on a particular AD. The AD was in black/white with the only color on it being Orange. So, our layout had to be inspired by the AD and we HAD to use the color orange somewhere on our layout. So, this was my take on the AD that was posted. We have until midnight CST to post layouts. Mine is already posted....now the waiting begins!! UGH!! Hmm...maybe that is why I don't feel the greatest today - my nerves must be getting to me!!!

Whether I go on or get voted off - I'm going to follow it along to see the participants that make it. The site is Scrap Love (www.scraplove.com). So, if you don't mind - wish me luck!!!